Chi siamo >
Lingue >
6color
Manchu alphabet
Origin
The Manchu alphabet was commissioned in 1599 by the Manchu leader Nurhaci (1559-1626), the founder of the Manchu state. The letters are based on the Classical Mongolian alphabet while the phonetics are based on Jurchen, an earlier Manchu script. The alphabet was modified slightly in 1632.
Notable features
Used to write
Manchu, a member of the Tungusic group of Altaic languages. There are currently about 9 million Manchus living in north-eastern China, of whom about 100 speak Manchu and only 20 can read and write it. Most speak only Mandarin.
Manchu alphabet
Vowels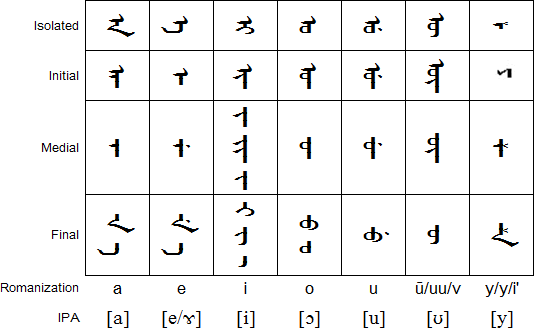 Consonants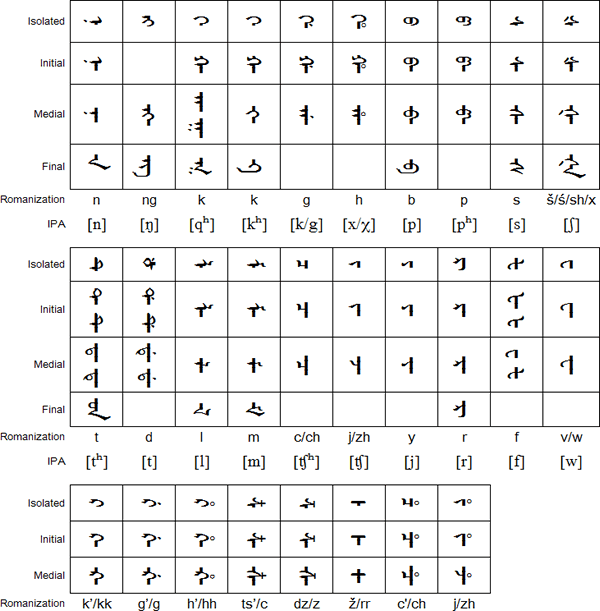 Numerals

Sample text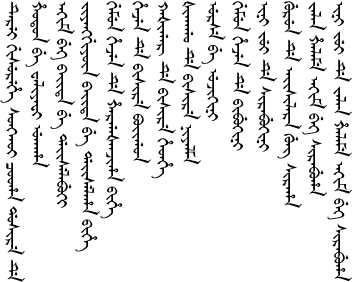 Translation
Following his advice, when the army was about to enter the town, he abandoned the town and fled. Akim Bek volunteered to handle the affairs, so he did the duty on behalf of the General. He had been to the capital city to present himself before the Emperor. His estate in the city and property in Kashgar, were used to provide the people living in Shikago, left in the capital city, or inherited by his son. He inherited the title of the Duke of Assisting the Nation, and was bestowed the hereditary title of Akim Bek. His son inherited the hereditary title of Akim Bek.
Source: http://www.chinahistoryforum.com
Links
Online Manchu forum with lessons (in Chinese)
http://manchusky.qq.topzj.com
满文输入工具 (Manchu Script Creator) - converts Romanized text to the Manchu script and lessons in how to write Manchu, a dictionary and other material
http://www.anaku.cn/eng/
Manchu fonts
http://sourceforge.net/projects/manchufont/
http://fedoraproject.org/wiki/Mang_Manchu_fonts
http://www.daicing.com/manchu/index.php?page=fonts-downloads
http://www.xenotypetech.com/osxManchu.html
Manchu in Unicode
http://www.babelstone.co.uk/Test/Manchu.html
Tungusic / Manchu-Tungus languages
Emurhergen, Even, Evenki, Jurchen, Manchu, Nanai
We are the initiators in providing incredible quality 642-374 dumps for LX0-101 exam prep. Also join us for best JK0-016 training session to give you timely success in real exam.
© 2010 MMW S.r.l.
Tel.: +39 0650780789 / +39 065081076 - FAX.: +39 0650797984 - Mob.: +39 3356792461
Indirizzo email: info@mmwtraduzioni.com
Sede legale: Piazza Giuseppe Mazzini 27, 00185 Roma
Sede operativa: Viale Odone Belluzzi 303, 00128 Roma
P.I. e Codice Fiscale: 05994081007